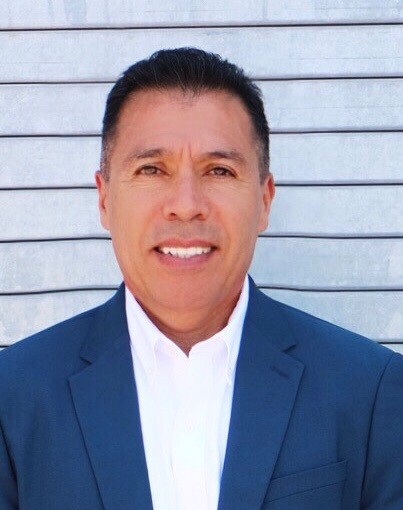 Has anyone ever asked you what your vocation is?
Typically when we hear a question like this we assume we are being asked to join the convent or seminary. We don't normally consider that question to be about our vocation to work or family life; But our Church's understanding of the word vocation encompasses more than just religious life. In fact, every single person has a vocation-whether or not it is a religious vocation is just one possibility. Here's the official definition of the word:

Through the sacramental life of the Church we hear how this call happens more succinctly:
"God calls you through Baptism and Confirmation to serve Him in a specific way of life. You can follow God's call as a single person, married person, ordained priest or a vowed religious. It is important to first determine which way of life God is calling you to. This process of determining God's call for your life is known as discernment." (Archdiocese of St. Johns)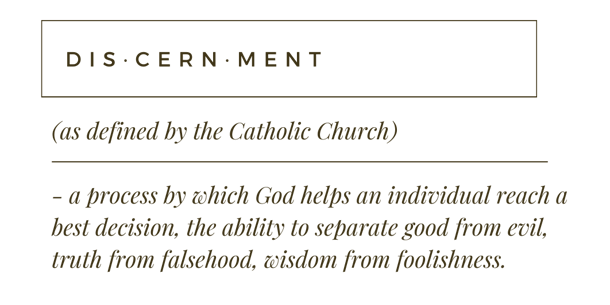 For a Christian, discernment is a process by which God helps an individual reach the best decision. The Latin root of "discernment" means to "separate" or "set apart." In Christian life, it is the ability to separate good from evil, truth from falsehood, wisdom from foolishness.
(www.pray.com)
Discernment is a useful gift in various situations in our lives.

It's the ability to evaluate situations and choose courses of action while staying aware of the moral implication of all options.

 
The term

'course of action'

is key here. This is the course that we as Catholics believe God wants us to follow so that we can serve Him best and lead the life He intended for us. This particular course is our vocation.
Our vocation can be discerned in a variety of ways, but

there are some essential "ingredients" that should be taken seriously. Here are some of the important elements that make up the discernment process:
The Process of Discernment:
Understanding Happiness Rightly




It

'

s important to ask ourselves what our orientation is to happiness. The Christian life

is a journey, and its promise is not trouble free. The life of faith is filled with a promise

of God

'

s provision come what may. Are we good with that?

Understanding we are Created for a Purpose




Every person is endowed with a unique set of gifts, all necessary for the building of

God'

s kingdom. The more aligned we are with that purpose, the more effectively the Kingdom of God is built on earth.




Believing His Will is Best




God cares about the direction of our lives and the decisions we make from day-to-

day. The Christian framework for making decisions is logical. Determining God

'

s will

for whether we should eat apple or pecan pie is arbitrary. Deciding to marry, remain

single or enter

the religious

life is not.




Ridding Life of Unnecessary Obstacles




If we have major sin impediments it will be difficult to discern.

The closer we are to the Light, the better we can see. Sin creates obstacles that dim

our vision and if we persist in sin, it may be difficult to see at all.

While we are not expected to be completely free of sin to discern, it does help to have a clear

conscience and utilize the sacrament of reconciliation often to aid us in living in the light.
---
While there's no standard roadmap for this discernment process, there are a couple of resources you can utilize. There are two we recommend which are useful and provide some practical steps to follow.
The first, the Ignatian Method, is the tried and true Jesuit approach that is practiced by thousands all over the world.
The second, is a six-step guide from the Archdiocese of Chicago that lays out some simple steps for general discernment.
Here's a quick glimpse at each of these methods:
An Ignatian Framework for Making a Decision
Identify the decision to be made or issue to be resolved

Formulate the issue in a proposal

Pray for openness to God's will, and for freedom from prejudgement and addictions

Gather all necessary information

Repeat step three

State all reasons for and all reasons against each alternative in proposal

Do a formal evaluation of all advantages and disadvantages

Observe the direction of your will while reflecting on advantages and disadvantages

Ask God to give you feelings of consolation about the preferred option

Trust in God and make your decision, even if you are not certain about it

Confirm the Decision
For More on the Ignatian Approach to Making Good Decisions Click Here
Archdiocese of Chicago Steps for Discernment:
Pray for guidance

List your options

Ask questions

Determine next action steps

Proceed (with prayer)

Choose and Trust



For the Full Guide on Discernment from the Archdiocese of Chicago Click Here
Additional Resources for Discernment:
For a deeper dive into the basics of discernment for the priesthood or religious life, check out this video by Fr. Josh Johnson:


Some Discernment Stories for Inspiration:
Just in case you are still struggling or wondering how you can use discernment in practical applications, here are a few real-life examples:
Roberto Martinez came back to the faith after a long absence throughout his adolescence. He attended the Fall Retreat at his Newman Center and was touched during the time of Adoration and felt compelled to go to confession. Afterward he felt a real closeness to God and sensed that God wanted him to know he was loved deeply. The experience made such a difference that he started attending daily mass and within months became an active leader in his community. As he neared graduation, he joined a men's discernment group and together the group began to grow in understanding of the concept of vocation – a call from God. Roberto, now married stated - I learned how to pray, and the importance of living the sacramental life of the church, especially confession and the mass. It was through these experiences that I grew in prayer and confidence that I could "hear" God's will for me. I felt in my heart a deep desire for marriage. And I grew more and more confidently over time that God affirmed this desire and that it was truly my vocation.
Theresa Miller is a convert and became Catholic in what she confesses was, "my search for meaning and where to find it." Her conversion didn't include any unique highs, but as she learned more and more about the truth of the Catholic Church she states, "God opened my eyes and gave me a deep appreciation of His presence in the Church – I found my search for meaning and where I would come to thrive." Regarding her vocation, Theresa felt she had no inclination toward marriage or the religious life. She wanted to be open to both and felt some excitement about a discernment process that would help her come to know God's will for her life. Her discernment formula was simple. Pray daily, attend mass as frequently as possible, pray a Novena to St. Joseph, make a list of pros and cons, speak with a spiritual mentor during the process, and define a time frame to come to a decision. During that time Theresa made a point not to date and made several decisions to diminish the "noise" of the world, especially in social media. Her process lasted eight months. She visited a convent during that time and when she left, she found herself longing for what she encountered and the unique charism of the women of the religious order. That longing didn't go away and within a matter of time it consumed her. Today, she is one of those sisters!